I have painted and drawn all my life, from the moment I could hold a brush and pencil.
My mother was very artistic and would have loved to have studied Art, but sadly, at that time, art college was considered a very risqué place for a young lady. She was pushed into a career in Botany and Horticulture instead.
Consequently she was more than happy to encourage me when I showed an interest at a very early age in anything creative, finding scraps of paper and cardboard for me to work on and jars of rather grim coloured poster paints, wax crayons and chalk to use.
Butterflies in the garden.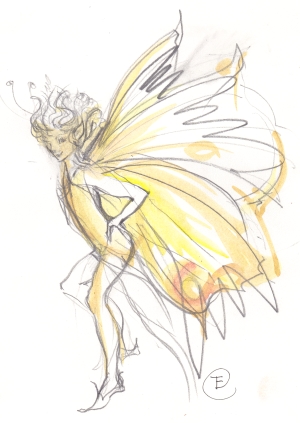 I had quite a lonely childhood, my sisters were very much older and almost a different generation. We lived in the depths of the countryside in Gloucestershire, England, and I didn't have the chance to play with children of my own age until I started school. I had to occupy myself and spent far more time creating imaginary worlds than most children. I searched for fairies and thought that I had found them in the brilliant and beautiful butterflies that enjoyed all the flowers in my mother's garden. My mother gave me a print of Arthur Rackham's 'Fairies in Kensington Gardens', which hung on my bedroom wall until we moved 16 years later (when it was sadly misplaced). This introduced me to Rackham's magic twilight world and he has been a continuous inspiration and joy to me ever since, along with Ernest Shepherd, Joyce Brisley and of course, Cicely Mary Barker.
Art School in the 60's
All through my schooling it was a forgone conclusion that I was working towards a career in art. It was with great excitement that I started a foundation course at Cheltenham Art College. However , it just so happened that my first introduction to the art world coincided with the arrival of 'Op', 'Kinetic' and 'Psychedelic' art which, although hugely exciting, was very bewildering for a 17year old and not at all what I was expecting. Almost immediately I was lost!
I sweated over, but learned a lot from, the anatomy classes and really enjoyed life drawing. It soon became obvious that a few tentative dashes into Contemporary Art and some delicate life drawings weren't going to be sufficient to procure a fine arts degree. Happily, I found ceramics enjoyable and a lot less stressful than fine art. I applied and was accepted on a degree course at Farnham College of Art.
The 60's were a very exciting time to study any form of art. We were the first students to do the Ceramics degree at Farnham. The structure of the course was continually changing. While it was a little stressful being 'guinea-pigs' it was, in retrospect, a very useful experience. We were introduced to many different mediums and skills, some of which I found difficult to work in. I didn't enjoy silver or wood, perhaps because they weren't malleable like clay. I discovered an exciting new world in the printmaking department. I struggled with the complexities of etching and engraving yet I enjoyed every minute.
We completed a course in botanical drawing which was invaluable when it came to creating pottery decoration. I was introduced to Japanese brush work and taught how to simplify a detailed flower or fish drawing into a few simple brush strokes. I still use Japanese brushes for watercolour painting.
After leaving college I was determined to make my way as a studio potter. I considered myself more than lucky when I was able to join the team of potters at the prestigious Winchcombe Pottery. Here I met and eventually married Joe- who's father, Ray Finch, owned the pottery studio.
I joined Joe in Lesotho, South Africa, where he was invited to set up a pottery studio. It was a truly wonderful experience and on our return home, we left Winchcombe to build our own pottery studio in the West Highlands of Scotland. I started an illustrated diary which I continued for 20 years, recording not only family and pottery life, but also making a pictorial record of our working travels to Africa, Australia and New Zealand, and our holidays abroad. The diary illustrations were almost cartoons but eventually, over the years, the sketches and painting became more and more elaborate, until it became more of a working sketch book.
When my daughter was born I stopped potting and began doing more and more paintings. I painted everything; the Scottish landscape, animals, trees and flowers – mostly in water colours, some in pastel. I think I was driven by the need to record things rather than a desire to create a work of art.
Fairy Dells
Fairies returned to my life when Clare, my daughter, strongly encouraged by my mother, went in search of Fairies and 'Fairy Dells' in our beautiful Scottish Glen. Thus many of my fairies, especially the fairy children, are based on Clare as a small child.
Years later, Clare finished her own ceramic degree, and produced a stylized fairy print to help fund a year of travelling the world. Inspired by this I started to create my own little fairies. They grew out of sketches of dancers (I had a friend who had a ballet school). I enjoy the freedom of being able to let myself go and draw however I want. After all no one can tell you how to draw a fairy!
The first small fairies were all dry point etchings printed on my own handmade paper. The more recent ones are large acrylic paintings on canvas. It takes many weeks to complete one of the big fairy canvases. I paint layer upon layer of colour, sometimes putting the canvas away for months at a time so that I can look at it with fresh eyes
There is now the first of a new generation of fairy lovers in the family, my first grandchild. So now I can continue the tradition my mother began, and take her fairy hunting in the woods!